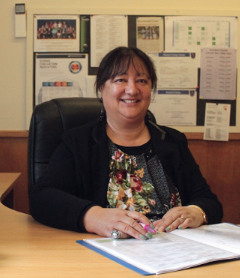 One of the great strengths of our school is the friendly, warm, family environment where we are able to care for our students and get to know them well.  The whānau atmosphere enables students to flourish.
We proudly offer a tradition started 120 years ago of academic, sporting and cultural excellence.  In all areas of endeavour and conduct, expectations are high, achievement is celebrated, and strong relationships are forged.
The qualities that underpin a Ruawai College student education includes Respect, Resilience and Responsibility.  They guide how we work together as a school community, and have a powerful impact on achievement across all areas.
Teaching and Learning at Ruawai College is rich, stimulating and responsive to the needs of students.  Many exciting and vibrant opportunities are provided for them, both in and beyond the classroom.
We are proud of our past, but ambitious about our future.
I invite you to be part of a school focused on meeting the challenges ahead in the 2lst century.
Raeleen Harre (M. Ed Hons)