Breakfast Anyone?

The Breakfast in Schools programme is about providing a nutritious breakfast of milk and Weet-Bix to children of all ages, in schools of every decile across New Zealand.
The underlying foundation of this programme is to ensure children have access to a regular breakfast each morning to leave them feeling happier and with more energy. The operation of KickStart Breakfast provides a fun and safe environment for students to socialise early in the morning as well as a nourishing meal.
Here at Ruawai College the Kickstart Breakfast programme started Week 4, Term 1 2015 and has been an instant success. From Monday to Friday our school hall is open at 8:00am till 8:40am where a student sets up the space, serves the breakfast and cleans up afterwards.
Since 2015, students DJ Hopkinson and Mikaere Barron have been regular Breakfast Club volunteers. Every morning they ensure that the Breakfast Club is set up and ready to go and that everything is clean and packed away at the end.
To assist DJ and Mikaere with the Breakfast Club, parent helper Janet Curle has been lending a hand.
We would like to say a big thanks to our wonderful student helpers and to the Hammons for giving their time to make the Breakfast Club a success.
An interview with the Breakfast Club Heroes: DJ and Mikaere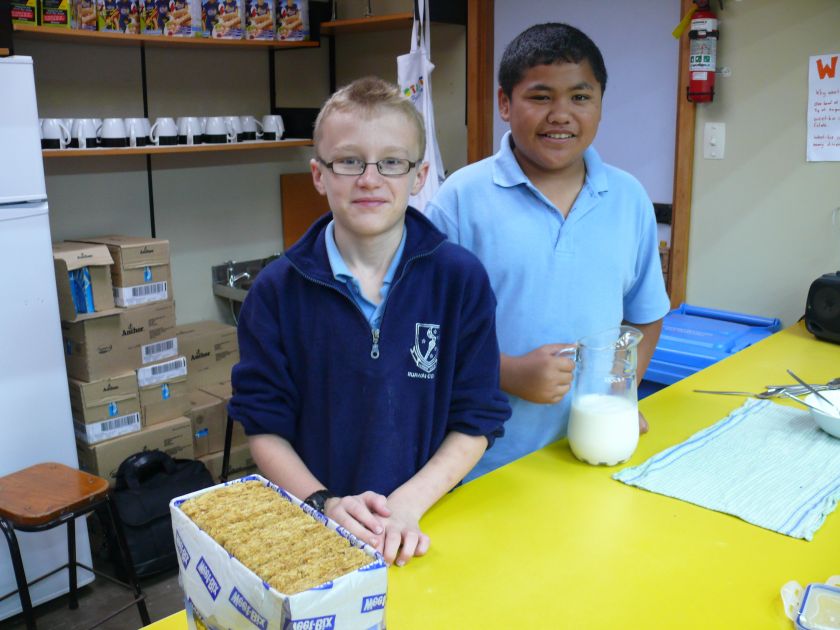 How did you start helping with the Breakfast Club? 
DJ: Sometimes I went there before school and helped out, after a while I was there every day doing the Breakfast Club.
Mikaere: I saw DJ doing the dishes when I went to the Breakfast Club so I started helping by serving food and setting out the tables.

What do you do every day at the Breakfast Club?
DJ: I get the serving counter ready by putting the milk into a serving jug and getting the Weet-Bix, bowls and sugar out and putting them on the counter.
Mikaere: I put out the sign and arrange the tables and chairs. Once everything is set out on the counter, the students help themselves.
Mikaere: During the Breakfast Club we count the bowls so we know how many people have had breakfast that day.
DJ: Once the students finish, I wash the bowls and spoons and then we both clear up the counter and tables.
What do you enjoy about the Breakfast Club?

DJ: Every morning I arrive early to school and the Breakfast Club gives me something to do. I enjoy helping others.

Mikaere: I get to serve breakfast to other people who haven't had theirs.  It's good fun because I get to talk to them while they are having their breakfast.
How many people come to the Breakfast Club every day? 
Mikaere: So far around 10-15 students.
Why do you use the Kickstart Breakfast programme? – Student responses: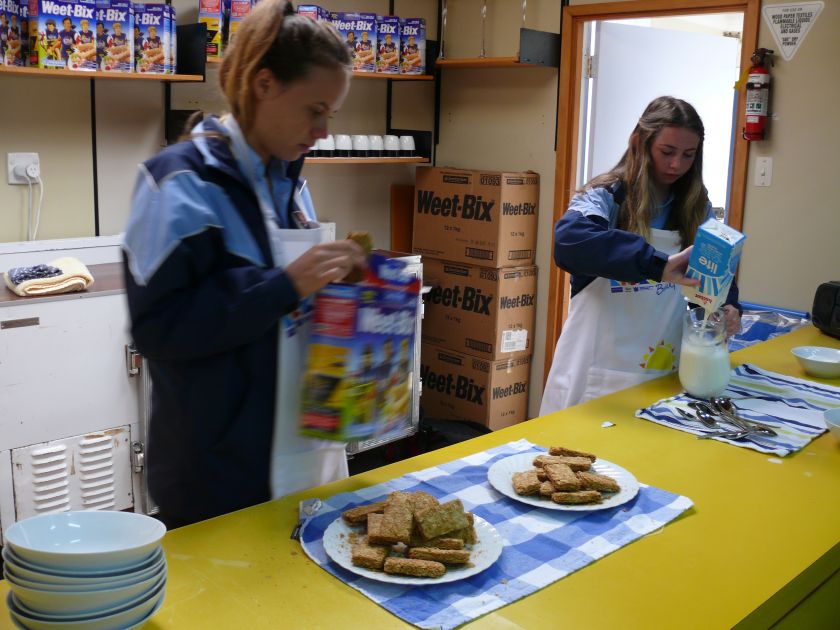 "I'm usually in a rush to catch the bus in the mornings, so I don't have time. Now I can eat breakfast at school if I miss it."
'I'm usually hungry by second period. The Breakfast club keeps me going till Break 1."
"When I wake up I don't eat because I'm still tired and not yet hungry, but I'm hungry when I get to school so I have breakfast here."
What benefits does the Kickstart Breakfast programme provide the students? – Staff responses: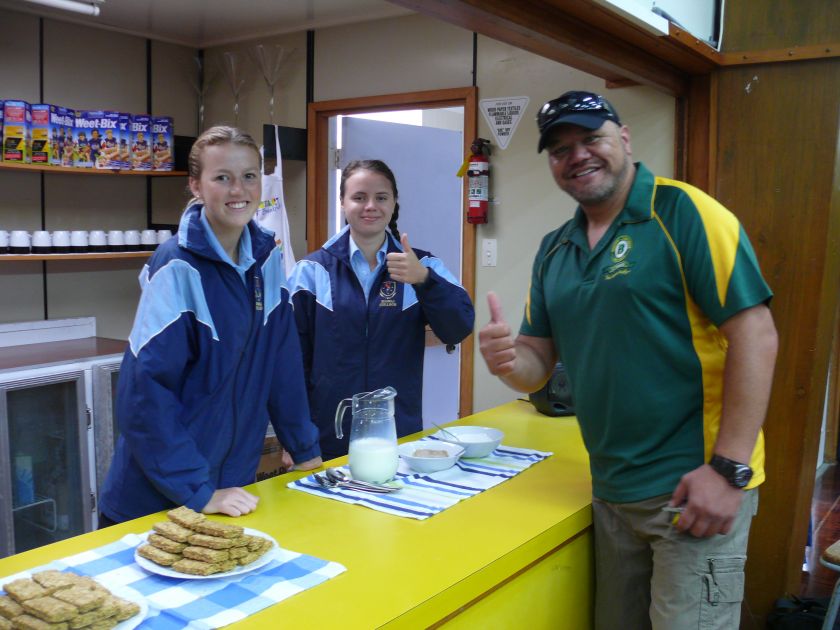 "The breakfast club is a great idea. It provides nutritious kai for the students and gives them a good start to the day" – Kimberly Rope
"A good breakfast keeps the students focused in class so that real learning can happen." – Wayne Williams
"It's an opportunity for the kids to have a healthy breakfast. It improves their hauora/well being" – Lance Panoho
Members of the community who would like to support the programme may do so by donating fresh fruit for the students.
If you are a member of our local Police Force or Fire Service, you are encouraged to join us for a free breakfast whenever you can manage.